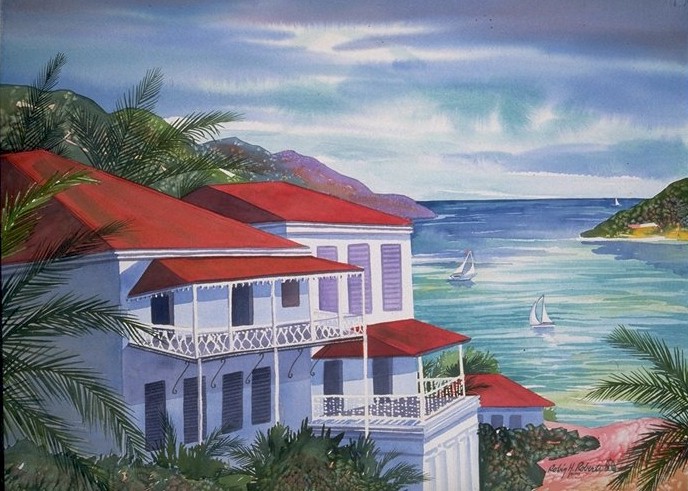 ROBIN H. ROBERTS-WALKER
The paintings of Robin H. Roberts-Walker are crisp, vivid, colorful interpretations in watermedia.  Subject matter includes scenes from South and Central Texas, Rio Grande borderlands, Mexico, Caribbean, American and European coastlines. Commissions in all media and giclee' prints are available.
Winner of numerous awards in Texas and national shows, Robin has received honors from the Texas, Alabama, Oklahoma and Southwestern watercolor associations.  She has shown in hundreds of juried exhibitions, group and one man shows in 45 cities in 13 states.  Her shows have included exhibitions in Atlanta, Denver, Virginia, Chicago, Miami, Santa Fe, Albuquerque, Oklahoma City and every major city in Texas.  She has been an exhibitor in the national Aqueous, Southern and Texas Watercolor exhibitions, and featured artist at the Texas 100 and Beaux Arts Festival in Miami. She has served as president of the Laredo, New Braunfels, and Seguin Art Leagues and the Texas Watercolor Society.
Born in San Antonio, she received her fine arts degree from the University of Texas in Austin and studied in San Miguel de Allende, Mexico at the Instituto de Allende.  She is married to Bill Walker and her studio is located on Lake McQueeney near Seguin.
www.robinhroberts.com
Robin H. Roberts-Walker Studio
ROBIN H. ROBERTS-WALKER
P.O. BOX 309
SEGUIN, TEXAS  78156
(830) 401-0153
From Robin:
The prices below are approximate and subject to change. Remember that many of these works may have been sold and are shown here to give you and idea of the subject and style of my paintings.
The prices are unframed (although I will be happy to frame them for you) and do not include shipping charges to your home or office. The sizes listed are the original work with a mat (in the case of the watercolors) to give you an idea of the final size. The water-based oil paintings are the size of the canvas only.
COMMISSIONS. Yes, I am happy to accept commission work. The prices are about the same as listed below and are satisfaction guaranteed (i.e. you only pay for freight if you return the piece after inspection). I send a small sketch for your approval in many cases. THANK YOU FOR YOUR INTEREST!
| | | |
| --- | --- | --- |
| Watercolors | | |
| 8x10 Miniatures | | $250 |
| 19 X 23 | | $350 - $500 |
| 22 X 30 | | $500 - $750 |
| 30 X 38 | | $950 - $1500 |
| larger sizes available | | |
| | | |
| Oils on Canvas | | |
| 8 x 10 miniature | | $500 - 750 |
| 14 X 24 | | $750 - $1000 |
| 24 X 36 | | $1000 - $1500 |
| 36 X 48 | | $1500 - $2000 |
| 36 X 60 and larger | | $3000 up |
| | | |